Are you the best at what you do? How do you know?
Do you know who your competitors are? When did you last complete a competitor analysis? Do you even know where to start?
Many businesses like to think they have conducted a competitor analysis when really all they have done is look at direct competition and, acknowledged their existence. A competitor analysis is a crucial part of marketing your business. How do you know where you sit otherwise. It's also a valuable tool for business improvement and this is its strength.
Who are your competitors?
The first thing to do is to list your competitors. Every business has competitors. There are different ways to think about who these could be.
The obvious one is direct competitors. Those who provide the same service or product as you, in the same way. They target the same customers as you and market their businesses in the same way. Look at a few simple target areas.
What products and services do they offer – how does this compare to you, who supplies them, maybe buy one?
How is it priced – is it simple or do they have a pricing structure
What is their positioning and branding – look at their website or any leaflets or posters they have, look at their social media pages or see if they attend any trade shows, who are they targeting and what are their value-added elements
What do their customers say about them – talk to them, test their customer service offering, what reviews have they had via google, trustpilot etc
So now you know who your direct competitors are, what else? There will be a lot of businesses that offer similar services or products or perhaps alternative solutions. They are your indirect competitors and also need to be on your list. They may not do things the same way as you and you may think that it will not work for you, but here's a thought – what if it did. Could they be doing one thing that is revolutionary in your market segments or could they just be connecting better than you are. It's worth taking note.
There is one more group of competitors that should also be in your thoughts. These do not do what you do. They perhaps don't even market themselves in any way similar. So why do you need to think about them? Because they are taking money from your potential customers that could be coming to you. They can sometimes be called 'Substitute Competitors' and are a section of competitors most businesses often forget about.
Alton Towers don't just monitor the activity of Thorpe Park or Blackpool Pleasure Beach, they also monitor the likes of B&Q. Because when B&Q have a fabulous offer on any given weekend, Alton Towers know it will impact their footfall. If you sell cars, you need to look at what other big purchases a person could make, holidays, kitchens or bathrooms or even a wedding.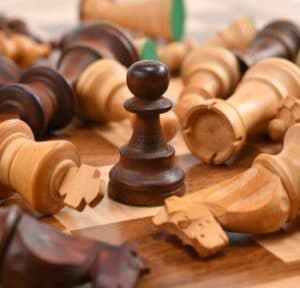 Don't Overwhelm Yourself
It's not about spending all of your time watching every competitor you MAY have but having some knowledge of what they do, how they do it and take away what could improve your business too. The trick with competitor analysis is to try and find what your competitors are doing that you are not. Are they on a social media platform that you hadn't considered? Do they work in a market sector that you haven't explored? Do they communicate with potential customers more regularly than you do? This is where you can start to see how a competitor analysis can help to improve your business. It can highlight steps you could make that could generate more leads or even more sales.
Do it regularly depending on your business. Seasonal businesses need to know what their competitors do during both the peak seasons and the drought seasons. Put together a schedule that provides you with good knowledge and information. It needs to work for you.
I have included a simple template that can help if you are still staring at a blank page not knowing where to start. I hope this helps.